The Venice Biennale, which draws a huge art loving crowd, is like a miniature map of global power and economic relations. Documenta in Kassel is tremendously heavy with its historical archives and social justice issues around the world. When we are going to experience Echigo-Tsumari Art Triennale set in a remote countryside, however, we should not hold the same attitude, the same expectation, or plan to spend the same amount of time. We can start to immerse ourselves in the local sunshine and humidity by strolling and wandering, and let our thoughts sprout freely among the hills and forests. If you cannot drive, do not mind having to spend a whole day just to see one piece of work, or having to arrive one or two hours before the work opens to viewers. If you are driving, do not go dashing along the hillside or finish off the area and the whole festival in 3 days.
Delightfully conceived and adorably designed, "The Kamigo Band-Songs for the Seasons" (M063) was set in a room in the Kamigo Clove Theatre. The band was composed of a few marionettes who played and sang about the four seasons in Tsunan. The band played a collection of 10 songs, which the viewer could choose their English or Japanese versions. It was even possible to swap languages while the song was playing. You could also be the singer behind the animal band by picking up the microphone and singing from the lyrics folder prepared for you. If you have chosen an upbeat song, you could see the octopus beating six drums and two cymbals at the same time. When you played a song about the snowy winter, a translucent fabric curtain would drop slowly. Wouldn't it be nice to start a beautiful day by coming here for a song every day?
"The Kamigo Band-Songs for the Seasons" (M063)
One can't talk about singing without mentioning the work "Karaoke & Humankind" (T362) from the exhibition Hōjōki Shiki 2018: The Universe of Ten Foot Square Huts by Architects and Artists. A hōjō is an interior space of 2.73m by 2.73m, which is also called 4 and a half tatami mats. The title originates from Hōjōki, a diary written by a 12th century nobleman who confined himself in a space of a hōjō and observed disasters and famine around him. Cubes of 2.73m on all sides were built around the square pool of the Satoyama Museum of Contemporary Art KINARE in Tokamachi. The cubes were transformed into a living space, a theatre, a sculpture, or even a sauna. One of them was transformed into a "snack", a kind of bar ubiquitous in the streets of Tokamachi. "Karaoke & Humankind" was open every day from 4 to 7 pm, manned by a real bar owner (Mama-san) from the neighbourhood, who would serve beer or other drinks, and would even sing with you. You can find everything you need despite its humble size. You were immersed with the atmosphere of nightclub once you get through the door, though you were just separated from the daylight and the art museum space by a thin wall. The space was so small that you could almost touch the walls if you stretch, but the room was nicely soundproof, so it was really OK to cheer and sing inside. You could choose from an array of songs in various languages including Japanese, English, Cantonese, Mandarin and Korean. It's perhaps a bit pricey at 500 yen for a song and a drink, but sometimes Mama-san would let you sing a few more. There were moments you felt as if you have become a local when you had the luck to be joined by other museum visitors. The fun went as deep as the idea behind the project: Mama-sans, many of them have reached their middle age, often felt socially marginalized because of the nature of their jobs; the offer to take up duty at the museum gave them a sense of respect. It is a refreshing encounter with art by having a drink and a song, and a nice chat with 8 Mama-sans from Tokamachi who rotated on duty at this special edition of a "snack" bar. It is also recommended to have a bath at Akashi Hot Spring adjacent to the museum after you have enjoyed art and karaoke. The common area of the hot spring resembled a community centre more than a bathhouse. A few artworks, which would be lit up after dark, were installed in the outdoor areas of the hot spring. It was a very unique experience when you watched the art work while soaking in a hot bath.
"Karaoke & Humankind" (T362)
The Echigo-Tsumari Art Triennale is also about food. Kojimaya in Tokamachi is famous for its soba noodles, while sake made out of koshihikari rice has also gained great acclaim. "Hokuetsu Seppu" performed at the Kamigo Clove Theatre Restaurant was both a theatrical piece and a meal created from local history and produce. With a selection of the most seasonal ingredients and prepared with dedication, the menu of down-to-earth Tsunan delicacies included carrots harvested under the snow, edamame and milk soup, marinated pork, and "world's most delicious rice balls". Local culinary history, farming culture and local customs were introduced between each course. The building that houses the Kamigo was originally a school. One of the ladies who served the meal was a former student. Although not speaking a word of Japanese, I could communicate with the local ladies by means of body language.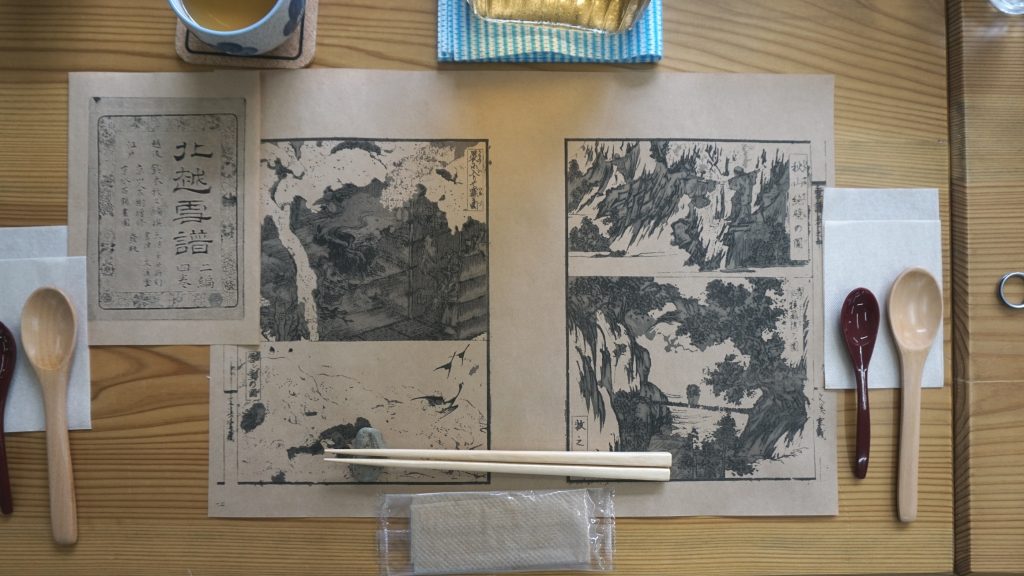 If you are still in doubt whether the Triennale is just another art project that landed on the site regardless of context, or that visiting it might just be another form of consumerism, then why not try and stay in Tsunan for 7 or maybe 10 days? You would meet friendly and enthusiastic locals manning the entrances of the art works, and many villagers had witnessed the construction and installation of works. When I was visiting "Air for Everyone" (M037), I met a local old man, who already knew by heart which handle would produce a sound in what key. He even went home and back to show us his photo taken with Ann Hamilton. There is also one advantage of not driving: you could chat with fellow passengers on the art festival tour buses. I have met a professional art consultant from Berlin, an employee from an art gallery in Taiwan, artists, art students, a trainee from the tourism board of Tokamachi, or even art students from Hong Kong. Even when you ride on a train that runs only a few times a day in the Iiyama line, you would see familiar faces. I felt that we were together at least for a short while, though we had exchanged nothing but a passing nod or goodbyes. You would actually find the mood that the art festival wanted to offer you, by starting a random conversation with whoever you might meet as you relax or wait for the next train in the Ikote (T309) restaurant or the café in Nunogawa campus (D331). What is important is that, the Triennale is not just something that happens once in three years, but is somewhere that you will always return to.
Photo with Ann Hamilton
You might miss some unforgettable experience if you rush to one art work after another in the fields following the crowd. Kingsley Ng's "Twenty-five Minutes Older" (A004) was transplanted from tramways in Hong Kong to a tour bus in the Triennale, and the landscape that you saw has changed from cityscape to rolling mountains and rivers. But that was precisely what was disadvantageous to the work, as landscape seen through thick foliage was not as explosive and varying as the streets of Hong Kong. Here it is probably more enjoyable just to look outside the bus window than from the projection created by the artist; that means ingenuity of the artist was probably wasted here. Creation and production of art have to adapt to the different contexts in which they are shown. Viewers also have to let go of their preconception.
"Twenty-five Minutes Older" (A004)